Through a friend, I recently learned of this transdisciplinay performance. It resonates with the themes I'm addressing in my research, and I would dearly love to see it. I hope it goes on tour and makes it's way to Jacob's Pillow or New York…
Published on Moving Poets
https://movingpoets.org/charlotte/index.php/programs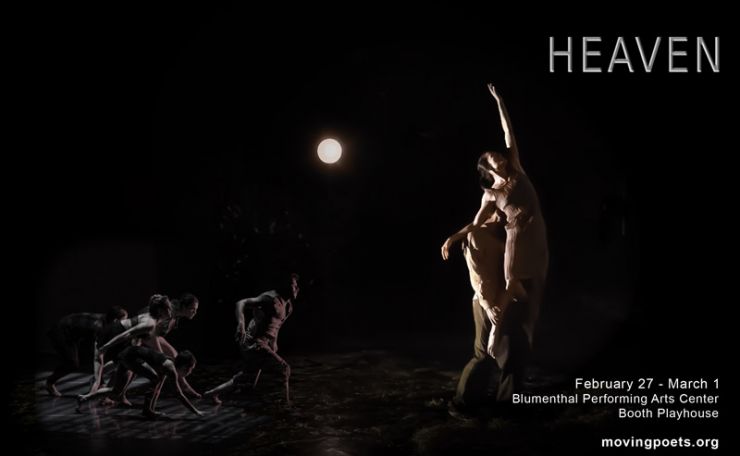 HEAVEN, February 27 – March 1, 2020 | Thu – Sat 8pm, Sun 7pmBooth Playhouse, Blumenthal Performing Arts Center | 130 North Tryon Street, Charlotte, NC 28202

A startling theatrical modern fairy tale roller coaster ride
– through conflict and chaos, courage and kindness.
Join Moving Poets 30+ performers, visual artists and musicians for the world premiere of HEAVEN.
Inspired by the poem FALLEN MOON FALLEN STARS by North Carolina's award-winning poet Chuck Sullivan and the work of nationally & internationally acclaimed artists from Charlotte and beyond.
Told through contemporary dance, theater, music, film, video-mapping and visual arts, the story travels through realities and dreams of Maria-Helena, a detained immigrant child.
Separated from her parents and maneuvering an upside-down heaven in her holding cage, she learns that to be released she must find a "lamp besides the golden door."
Supported by Mother Mary and the ghost of Maria-Helena's murdered brother, she discovers it hidden under the treasures of a narcissistic Pinocchio.
To give up the lamp, Pinocchio must lose his treasures and become a real "Mensch" – with the help of the audience, whose own response and participation may change events in HEAVEN.
The world premiere stage production HEAVEN, creatively utilizes a vast range of voices that are distinct in their tones, timbres and rhythms and challenges misunderstandings that currently divide our communities. Many of our collaborating artists are foreign born Charlotteans (including Mexico, Colombia, Vietnam, Germany, Switzerland). In keeping with Moving Poets core mission, we work with a community of artists of different cultures, age groups and disciplines. Not only does the project highlights the challenges of migration and displacement but reflects, emphasizes and celebrates the culturally diverse, rich experiences and valuable contributions of natives and immigrants to our community.
The production is the culmination of four previous developmental stages of the larger evolving project We See Heaven Upside Down* (WSHUD). Informed by previous iterations, the international arts and outreach program utilizes the visual and performing art to create dialogue to promote empathy and understanding of migration, displacement and identity. Additionally the project examines how we share space with each other and how we are connected through our own family history.
Theatrically HEAVEN it is rooted in contemporary dance-theater with a sharp satirical edge and no fear of the absurd. Images can be startling and eerily beautiful, influences from Martha Graham to Pina Bausch to Samuel Becket may come to mind. Musically it ranges from acoustic melodically on traditional instruments through avantgarde experimental compositions with power tools and sound objects, to club music and hip-hop. While the story unfolds, the audience finds itself to become part of it, being challenged to engage and to, not unlike in an escape room, help find the key to a way out.
HEAVEN's local, national and international artists come from North & South American, Native, African, Asian, Middle Eastern and European backgrounds and range in ages from 15 to 75. They include uniquely talented young performers as well as award winning and highly accomplished veterans, whose work is collected by major museums like the Smithsonian, who are inducted in to the Rock'n Roll Hall of Fame, received recognitions like a Grammy Nomination, the Sam Regan Award for lifetime achievement and who are current & former members of companies like Martha Graham Company, Sasha Waltz & Guests, The Grateful Dead and Life Dead & Riders69 ….
Visual Artists: Nico Amortegui (CO) | MyLoan Dinh (VN|US) | Michelle Gregory (US) | Rosalia Torres-Weiner (MX)
Performers: MyLoan Dinh (VN/US) | Perry Eastman (US)| Sara Eastman (US)| Katherine Goforth (US)
Cynthia Farbman Harris (US) | Mike Harris (UK/US) | Movement Migration Kim Jones & E.E. Balcos (US)
Chuck Sullivan (US) | Alyce Cristina Vallejo (US) | Rosalia Torres-Weiner (MX) | Nina Bischoff* (US) | Juan Castellanos* (US) | Sarah Clarke* (US) | Sabriyya Dean* (US) | Alex Griffith* (US) | Danielle Lieberman* (US) | Eric Stith* (US) | (* with kind support of Charlotte Ballet and Charlotte Ballet Academy)

Musicians: Tanja Bechtler (US/CH), cello | Tom Constanten (US), Keys | David Crowe (US), percussion | DAE-LEE (US), vocals| Mike Kenerley (US), drums | Milad Khawam (SYR), trumpet | Till Schmidt-Rimpler (DE), bass | Bob Teixeira (US), guitars | Joe Wilson (US), saxophone
Choreographers: Maya Gomez (DE/ES) | Kim Jones (US) | Till Schmidt-Rimpler (DE)
Music by: David Crowe (US) | Dae-Lee (US) | Joe Wilson (US) | Tom Constanten (US) with additional contributions by all musicians
Music director and composer: David Crowe (US)
Poet: Chuck Sullivan (US)
Writers: Chuck Sullivan (US) | Mike Harris (UK) | Katherine Goforth (US)
Film Maker: Dellair Youssef (SYR) | Projection/Video Mapping: Shawman (US) | Light Design: Wink Lighting (US) | Videos & sound effects: Moving Poets
Additional artists to be announced.
Artistic direction: MyLoan Dinh & Till Schmidt Rimpler

* We See Heaven Upside Down is an evolving dialog initiated in Berlin, Germany, in 2015 by artist MyLoanDinh – herself a former refugee of the Vietnam War. Moving Poets has since developed it into an international creative conversation. At the heart of the project lie inspiring stories expressed through contemporary arts.
It challenges misconceptions and prejudices that currently divide our communities by heeding a vast range of voices thereby forming connective tissue between a multiplicity of distinct experiences. In and through visual, performing and multi-disciplinary arts, the project seeks to spur and inspire moments of genuine empathy and understanding towards other individuals and their journeys.
In 2016 We See Heaven Upside Down had its first two public migrations at Moving Poets NOVILLA in Berlin, with support of the Department of Culture and Museums Berlin Treptow-Köpenick, the German Federal Ministry for Families, Seniors, Women and Youth, the Program for Democracy Lives.

In 2017 the third migration was the Visual Arts headliner for Sensoria Art Festival 2017, Ross Galleries, Central Piedmont Community College. In 2018 it was awarded the ASC Cultural Vision Grant in Charlotte. It started its 4th migration in March 2018 and developed through numerous events and activities into a 6 week program in partnership with ElderGallery of Contemporary Art in May/June 2019.
To date it has had input from 65 artists, including established and emerging visual artists, acclaimed performers and musicians, distinguished poets and hundreds of students and citizens, local refugee agencies and Native American associations. More than 5,000 visitors have experienced the migrating exhibitions, attended performances and concerts and participated in outreach programs.
Moving Poets Charlotte are very grateful to be a recipient of the inaugural The John S. and James L. Knight Foundation Celebrate Charlotte Arts Grant (info), the Arts & Science Council Cultural Vision Grant, a Reemprise Fund grant and a Blumenthal Performing Arts Center location sponsorship, all supporting the production of HEAVEN!